WELCOME TO
Ritu Chaudhary Hearing and Speech Clinic
How do I know if my child needs speech and language therapy?
At Ritu Chaudhary Hearing and Speech Clinic, the speech language therapist takes a thorough assessment of every child. After that, we plan the therapy module which is best suited to the child. We analyze child's present level of language and understanding. On the basis of this baseline assessment, a plan is made, integrating different therapies to bring the child to the optimum level of his potential. Speech & Language Therapy is provided in the following presentations:
Speech Problems: Phonological and articulation
Difficulties understanding or using spoken language
Specific language impairment
Social Communication Impairment
Eating, drinking and swallowing difficulties from weaning, these are part of a complex condition
Disabilities/diagnosed conditions which could affect communication skills e.g. Autism, Cerebral Palsy, Downs Syndrome, ADHD, Learning Disability, Intellectual Disability
Stammering
Children who may benefit from Speech and Language Therapy are:
Misarticulations/ difficulty in producing specific sounds
Hearing Impairment
Autism Spectrum Disorders
Genetic conditions like Down Syndrome
Childhood Apraxia of Speech
Speech Language Delay/ Impairment
Stuttering
Attention Deficit Hyperactive Disorders
Learning disabilities
Oro- motor difficulties
Cognitive deficit/delay
Cleft lip & palate
Cerebral palsy
Voice disorders
Swallowing disorders
Loss of speech post head injury.
Digital hearing aids in Panchkula for kids and old age.
Delaying speech language therapy for your child runs the risk. The risk of missing that all-important window of time between birth and three years of age. This is the age the brain is maturing and learning happens rapidly.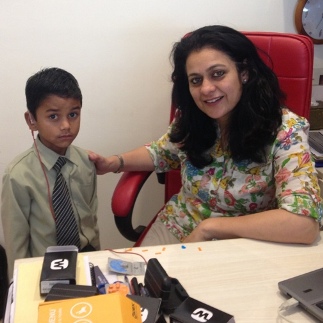 The ability to express one's self is paramount. Speech therapy may help your child achieve a greater ability to use and understand language. The Child will communicate with others and express himself/herself to the greatest extent possible.